Mardi Gras Centerpieces

Bringin' the "Big Easy" Home
Mardi Gras centerpieces can be made simply and easily with just a few novelty items that are available at most party, craft or discount stores. Many of the Mardi Gras ideas are made using the official colors of New Orleans, which are purple, green, and gold.  However, other colors can be used as well. Try teal blue or hot pink!  Harlequin patterns are another common element used when decorating for a Mardi Gras theme party.
Masquerade Masks
It wouldn't be a Mardi Gras party without colorful masks! Masks also make a great addition to your table decorations. They range from simple do-it-yourself types to very elaborate ones. Many can be made yourself, even if you have limited craft skills, by purchasing a "bare" face mask at craft stores. Then, decorate it with feathers, beads, glitter, or whatever you feel like.   Or, cut your own mask from stiff card stock paper, poster board, or a thin piece of cardboard. 
Here's a photo showing one that a friend's daughter made.  She designed and cut the shape out of a stiff paper, and then decorated it with feathers. You can make cute and creative mardi gras centerpieces by making several of these, attaching a stick to one side, and inserting them into a bud vase or other container for each table:
Here's what the back looks like (it's a bit old so there are a few rips in it from use, but it gives you an idea of the basic shape she used to design the mask):
If you don't want to make your own masks you can buy some cute ones like these
Mardi Gras Feather Masks Pkg/12
.
---
Beads
Bead necklaces commonly referred to as "throw beads", since they are tossed out to spectators at Carnival parades, are available in traditional purple, green, and gold, as well as other colors. They can be used to make all kinds of colorful and inexpensive Mardi Gras centerpieces.  Simply place a bunch of them into glass containers or drape them around table.

---
Feathers
Feathers are fun and versatile. Make cool mardi gras centerpieces by placing larger feathers, or plumes, in tall vases for a really stunning look. Add LED lights to the bottom of vase/container and it becomes very dramatic. Small feathers can be casually scattered around the table.

I saw these at a local Hobby Lobby store.  I loved the colors available and thought about all the wonderful centerpieces that could be made from these.  Mardi Gras, of course... but wouldn't these be so great for a soft, fluffy, wedding centerpiece or a little girls birthday party, or maybe for a fun girls night spa party?  Oh, the possibilities!  Love them!
---
Glitter
Glitter….well you can never have too much! Use spray adhesives or other glue to add glitter to masks, vases, candle holders, etc. Glittery stickers are another way to add sparkle to your table without the mess of using adhesives.
---
More Centerpiece Ideas...
Here are more ideas to get your Mardi Gras themed party started!
IDEA #1-BEAD BOWLS
Place a bowl or vase of colorful Mardi Gras beads on each table. Mix different colored beads together for a more flamboyant display. Or, use just one color, and then make place cards assigning guests to a table based on the color of beads placed on that table. Add glass votive candles around center bowl. Use the glitter or sticker idea discussed above on the candle holders for that extra sparkle!
---
IDEA #2-FEATHER VASES
Place large feather plumes in a tall glass vase and surround with beautiful candles. Obviously, the feathers should be tall enough to not come near the flames, or use the LED battery-operated flame less candles instead.
---
IDEA #3-DECORATED GIFT BAGS
Stuff one or more plain gift bags with purple, green, and gold tissue paper, making sure the tissue sticks out of top. Then drape a few beads across the handles and top of bag so the beads appear to be spilling from bag to table. You can also embellish plain bags with glitter, stickers or paint if you'd like. You can also buy colored gift bags.  Try mixing purple, green and gold.  Smaller bags make great serving options for popcorn or other snacks, plus no dish to wash!
---
IDEA #4-SPRAY PAINTED CANDLE OR VASE DESIGNS
Secure "fleur de lis" designs, or other Mardi Gras inspired designs, patterns or stickers to clear candle cups or vases. Take them outdoors and turn upside down onto a piece of cardboard. You may want to cover or tape off the bottom of container to reduce risk of paint transferring to table or linens later. After protecting area around it, spray paint them in colors of purple, green, and gold. After they dry, remove design/sticker, add a candle and light. The candlelight will shine through the design.
---
IDEA #5-EASY BALLOON IDEA
For a really easy and inexpensive idea use balloons to make your Mardi Gras centerpieces. Regular air-filled balloons in purple, green, and gold can be attached to sticks, adjusting and taping sticks together to achieve preferred height. Then place into a vase or container. Additional items could be added, if desired, such as foil picks or ribbons. Use 3 balloons for a small centerpiece, use 5 to 7 balloons for a larger, taller centerpiece, or however many needed to get the right look for your table. Colored tissue paper or metallic foil shreds can be added along the edge of container to conceal the balloon sticks and to provide a cleaner, finished look.  Go here if you'd like to read more about balloon centerpieces.

---
Include Food In Your Decorations, Too...
Mardi Gras is a time of exuberant eating and drinking before Lent. So enjoy yourself, and don't forget to include food items as part of your table decorations along with that fabulous Mardi Gras centerpiece!
Insert fancy toothpicks or small pinwheels into the top of cupcakes...serve colorful purple, green, and yellow jelly beans in glass jars...use food coloring in frosting...decorate cookies with edible "beads" or pipe a drama mask or purple flowers onto them...Purchase submersible LED lights to place in bottom of drink glasses...these are just a few ways to create a fun Mardi Gras table setting. Go to  edible centerpieces for more inspiration.

---
 Dress for the Party...
Sexy Mardi Gras Jester Costume - Women's New Orleans Mardi Gras Costumes
---
Carnival Mardi Gras Mask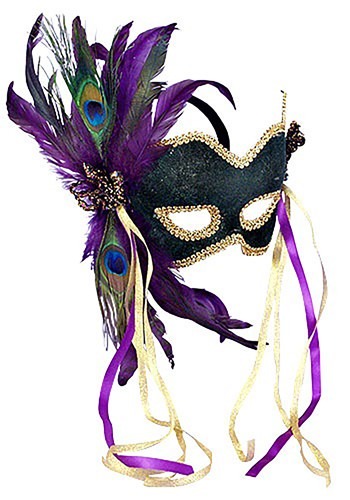 ---
Womens Harlequin Shoes - Sexy Harlequin Clown Costume Accessories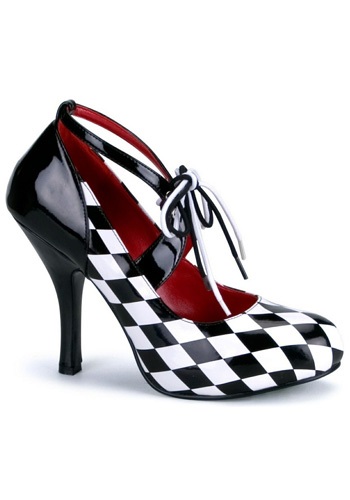 ---
Adult Mardi Gras King Costume - Mardi Gras Carnival Costume Ideas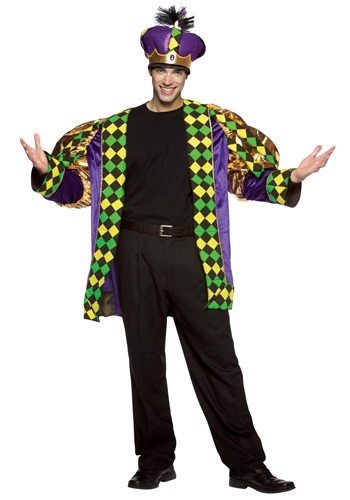 ---
Purple Tux Shoes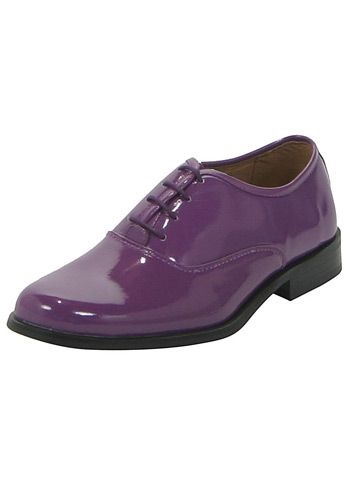 ---
Ideas for Tropical Centerpieces

Ideas for Wine Theme Centerpieces

Ideas for Western Centerpieces

Return from Mardi Gras Centerpieces toThemed Centerpiece Ideas

Return from Mardi Gras Centerpieces to Centerpieces Home